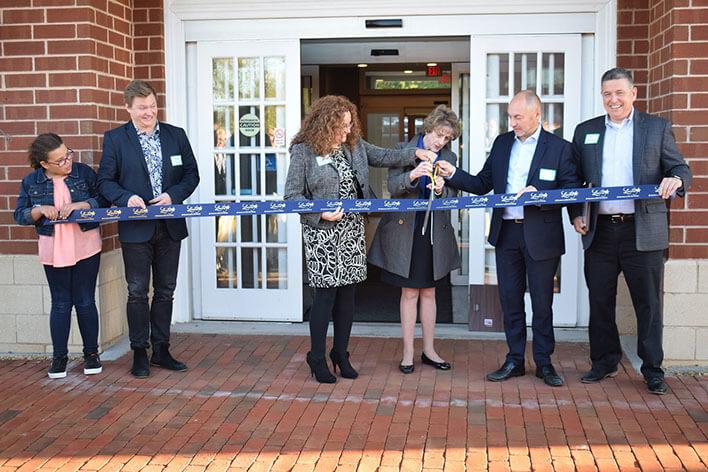 Tree of Life ministries hosts ribbon cutting ceremony
LEESBURG, VA, October 24, 2019. Tree of Life hosted a Ribbon Cutting ceremony at the Leesburg Junction on 215 Depot Ct. SE in Leesburg to celebrate the opening of their new Leesburg Center.
The 75 guests included local churches, faith-based organizations, government offices, and businesses. The morning included a presentation from Paul Smith, Tree of Life's Executive Director.
Paul and his team shared the Tree of Life vision and mission, which is to serve the poor and needy with the love of Jesus Christ in our community. He recapped the story of how Tree of Life began in 2008 and has been operating from Crossroads Baptist Church in Leesburg since 2015. "The opening of a Leesburg Center gives us a daily presence in Leesburg; we will also continue to offer ministry activities at Crossroads Baptist Church," Paul stated.
Isabel Mayer, Leesburg Regional Director, presented information about their five branches: Food, LifeSkills, Shelter, Healthcare, and Relief; as well as how each assist with the organization's objective to extend a hand up to individuals in need and not a handout. Isabel declared "Tree of Life desires to walk alongside each person, to listen, to advocate and to build an enduring relationship, as well as to pray with each person we encounter."
Jordan Smith, Tree of Life Development Officer, commented, "I would like to express my gratitude for all those who attended and their ongoing support of Tree of Life. I am excited to see various sectors of our community coming together to serve those in need."
Tree of Life has served 16,000 individuals in need during 2018 alone and over 50,000 since its inception in 2008.
For more information about Tree of Life and its outreach of 28 ministry offerings in Leesburg, Purcellville and Winchester, visit their web site at www.tolministries.org or contact them at info@tolministries.org or 540-441-7920.
Contact: Isabel Mayer Regional Director, Leesburg Tree of Life Ministries
540-441-7920 | info@tolministries.org | www.tolministries.org