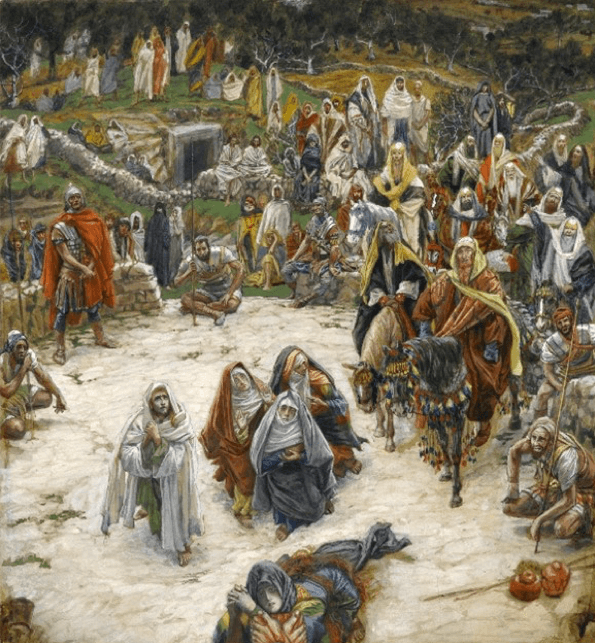 Contagious Love
April 1, 2021
As we approach Good Friday this Holy Week, I was reflecting on the final words spoken by Jesus as He endured the agony of crucifixion. There isn't a library anywhere that could contain the magnitude of His final words, but my thoughts were drawn to just the first three statements He made: "Father forgive them" (spoken to those responsible for His death); "Dear woman, here is your son" (spoken to His mother and to John) and "Today, you will be with Me in paradise" (spoken to the thief on the cross).
I was impacted by the fact that Jesus powerfully reached out to others first as He spoke. His primary concern was for those around Him. Contagious love in action!
A 19th century artist, Tissot, spoke to the very essence of this contagious love as he tried to capture the crucifixion scene from the eyes of Jesus in the image above.
As followers of Jesus Christ in the 21st century, that truth is unchanged. We are called to reach out with His contagious love. In our case, we are called to 'reach out to the poor and needy in our community with the love of Jesus Christ.'
In Purcellville and Winchester, we continue to impact lives every day across each of our 5 Branches. Citing just one of many examples, Tutoring@theTree has hugely impacted young lives as the team has reacted to the challenges of distance learning for needy families.
In Leesburg, the demand for food is sufficient to expand our Pantry premises and our new enlarged space will be operational during April. We hope to literally double the number of families who can be impacted weekly with food deliveries.
In Sterling, a new lease (effective April 1) has been signed in the heart of Sterling Park! The need is huge and varied and our task begins in earnest in coming months.
Our 2 Gospel Enterprises (the Clothing Closet and SimplyBe Coffee) extend employment to a dozen people with the love of Jesus Christ shared as every clothing item and every cup of coffee is sold.
Across 5 Branches and multiple local Ministries, we are reaching out – just as Jesus demonstrated in His own example. If you are in any doubt about the impact you make:
I met a lady at church last Sunday. She faced the enormous burden of raising teens as a single mom. As we prayed together, she shared that the only reason she had attended church was thanks to a kind lady at the Tree of Life Clothing Closet extending a personal invite. Contagious love in action!
I met with an amazing donor for lunch this week. We took the time to share of the impact Tree of Life has made across our community. As I paid the bill, our waitress emotionally shared she literally could not have endured this past year without Tree of Life. We had helped hugely as she worked 60 hours a week and tried her best to meet the needs of her 5 children. Contagious love in action!
The example of Jesus Christ never diminishes as we reflect on His gift each Easter season. A personal thank you from me as you share His contagious love day after day.
HAPPY EASTER!
Blessings,
Paul Smith
Chief Executive Officer